Marine Ian Michael Travels Across the Country Giving Out Free Hugs to Veterans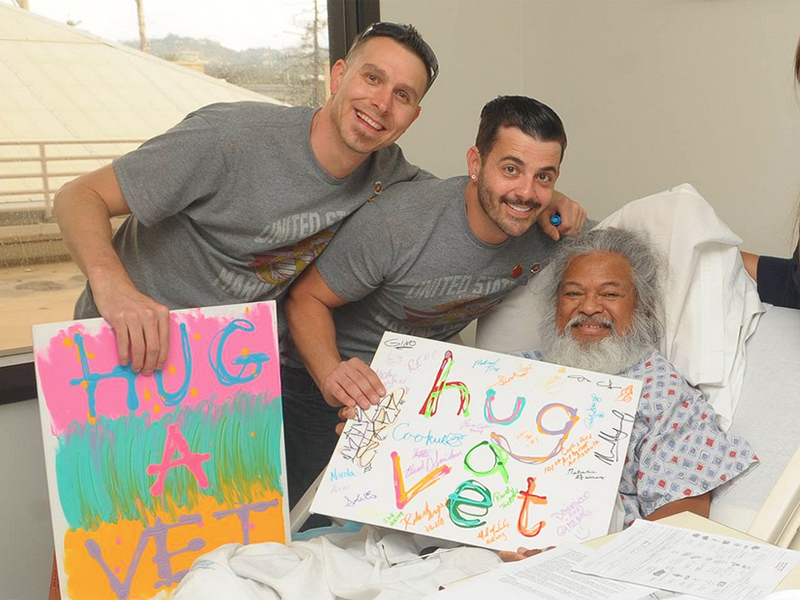 Ian Michael knows the anxiety and isolation faced by combat veterans returning from and even years after war – because he's faced it himself.
The 34-year-old former Marine served in the Iraq war in 2003 and has struggled with post-traumatic stress disorder ever since. Now, he's using his own experience with isolation, anxiety and depression to help other veterans cope with theirs – all through the healing power of a simple hug.
Together with fellow Marine veteran Gino Greganti and his wife Erin, Michael is traveling across the country giving out hugs at VA centers. They're calling their journey the Human Hug Project, and so far they've visited 15 VA facilities and plan to make it to 140 more.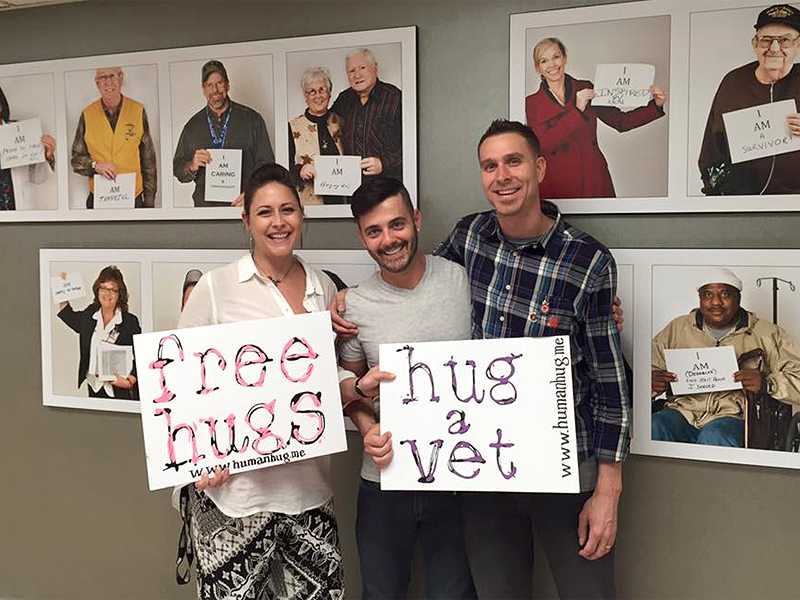 In January, Michael was struggling with PTSD that left him feeling panicked and alone. One night, he stumbled across an article online about the psychological benefits of hugs.
"I decided if I could get only a small portion of those benefits that my life would be better," Michael tells PEOPLE. "So I threw my dog in the car and grabbed a free hug sign and started traveling across the country and giving hugs."
After living with PTSD for over 10 years, Michaels says reaching out to embrace those first few strangers was "the hardest thing I had ever done."
However, seeing how the hugs affected not just him, but the people he was embracing, drove him to keep going.
"People would cry, I would cry and they would share their stories," Michael says. "I started to realize that a hug was something that a lot of us just didn't share with each other."
After arriving in Nashville, Michael reconnected with Greganti, 38, and learned that he had just made a short film about his own struggle with PTSD and the profound effect of a hug he received from a VA social worker.
"That hug started to change his life, and when I saw that documentary, it made sense right then and there that Gino, his wife Erin and I were to pair up and go spread our hugs at VA hospitals across the country," Michael tells PEOPLE.
As Michael explains, many veterans face persistent feelings of isolation – no matter how much time has passed since deployment.
"We have all of these veterans that are home, coming home, have been home for years walking around in pain and slowly starting to isolate themselves," Michael says. "And we're so busy with ourselves, we're not realizing that people who've defended our freedom and our country are in pain and are hurting."
Together, the core of the Human Hugs Project is working to make sure that veterans never have to feel alone – from giving out hugs in waiting rooms to visiting individual patients.
"We were at the national VA and we received a sticky note, and on that sticky note, it said 'Will you please visit my friend Betty?' " Michael says. "On the bottom of the note it said, 'Be careful, she's grumpy.' "
While Michael approached with caution, what he found was a kind soul who "just melted into our arms." Betty cried as she explained that she hadn't been hugged in over three months.
"So then of course we gave her like five hugs," Michael says. "And then she wanted to take a picture with us so she could send it to her daughter to 'let her know that she at her ripe old age was still hugging handsome men.' "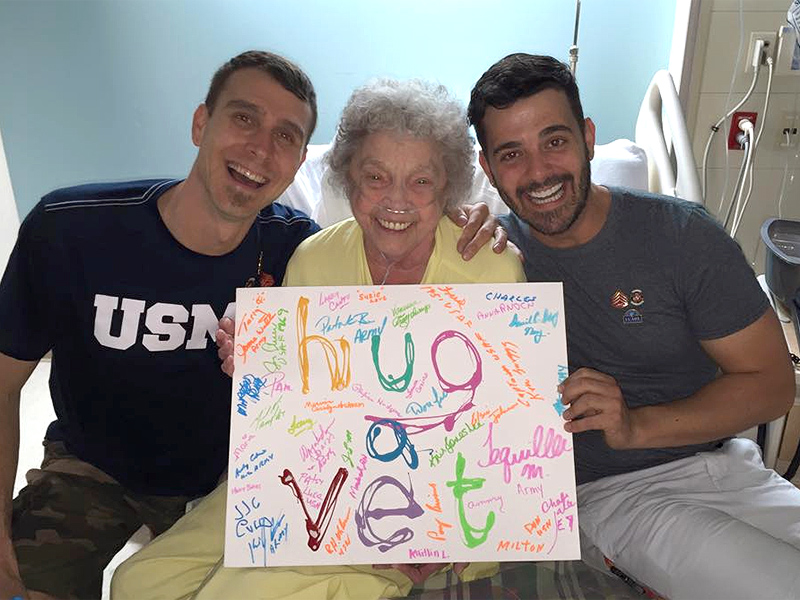 Candace Bradley, a volunteer service officer at the Lexington VA Medical Center in Kentucky, has hosted the Human Hug Project at her facility three times.
Bradley says she was shocked to find that 98 percent of the veterans she works with every day welcomed the hugs with open arms.
"You don't think about veterans hugging people because they're so just locked up," Bradley tells PEOPLE. "But it's really one of the most important things that they need. It's just that simple touch saying, 'I'm here for you, I love you, I thank you for your service.' It takes five seconds to be able to do that and then there's all this laughter that comes behind it."
Since Michael and the Gregantis visited, Bradley, 33, says she has seen a lasting change.
"I've seen more hugs within my facility, I've seen more acceptance from the employees at the VA," she says. "It's a lasting ripple effect, it's not something that you forget about, it's something that stays with you forever."
"At first I was a little nervous about it because I'm not a natural born hugger," Bradley tells PEOPLE. "But once I met them and learned their story and saw the impact of their hugs, I changed as a person."